Ray Vargas & Nicole Will-Vargas
Class of 2009
June, 2019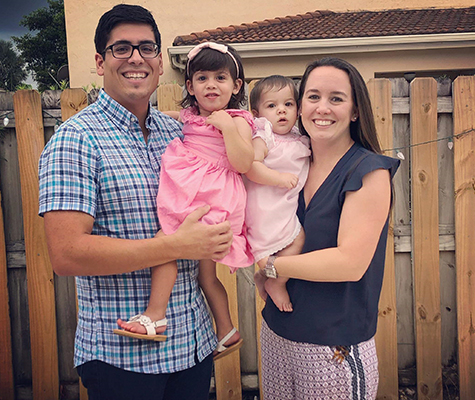 Master's for School Counseling

Nova Southeastern University
Psychology

Florida International University

2013
Electrical Engineering

Florida International University

2013
Archbishop Coleman Carroll

2009
Ray and Nicole both attended Florida International University, graduating in 2013. Ray with his Bachelor's in Electrical Engineering and Nicole with her Bachelor's in Psychology. Before Ray took a position with Florida Power and Light in Sarasota, FL, he proposed to Nicole. Their wedding followed soon after.
In Sarasota, Nicole began working with the Safe Children Coalition, helping children and families in the Foster Care system. Nicole has continued her education earning her Master's for School Counseling from Nova Southeastern University. Ray and Nicole have welcomed two beautiful daughters into their lives during this time.
Ray is currently the Production Lead Supervisor at FPL, and Nicole is the Freshman School Counselor at Cardinal Mooney Catholic High School.
They are in the process of building their new home, taking care of an almost three-year-old and one and a half-year-old, and thanking God for their many blessings.